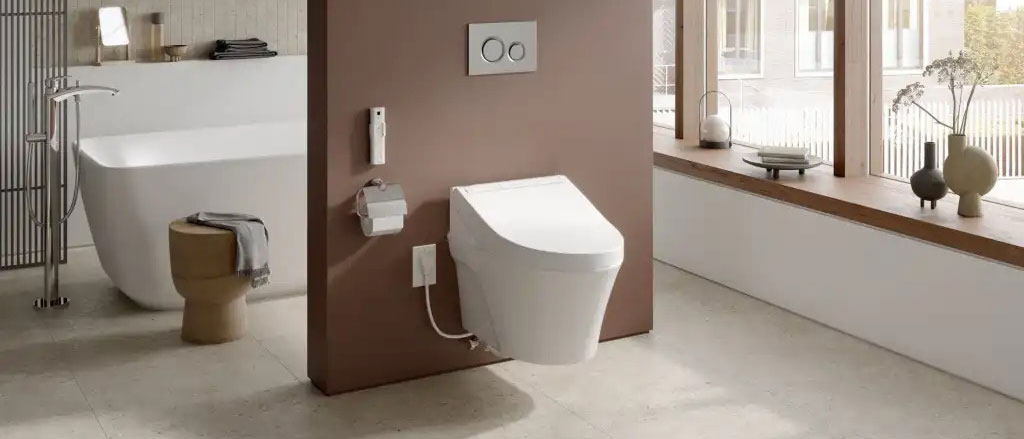 Toilets
Looking for a high-quality toilet from a top brand? Look no further than our selection of toilets! We carry major brands like Kohler, Toto, Duravit, and more, ensuring that you have access to the latest designs and technologies in toilets. Our selection includes a range of styles, sizes, and features to choose from, so you can find the perfect fit for your bathroom. Made of durable materials and engineered for exceptional performance, our toilets offer a range of water-saving features and options to suit your needs. Our expert team is dedicated to providing exceptional customer service and support, ensuring that you find the perfect toilet for your needs. Upgrade your bathroom today with a top-quality toilet from our selection!
Can't find what you want? Check out our vendors and we may order for you with low price guaranteed

"The tradition of the Duravit brand. Even a company that has set great precedents with its centuries-old tradition once "started small." It all began in Hornberg, Germany in 1817 when Georg Friedrich Horn built an earthenware factory initially focused solely on the manufacture of crockery. In 1956, production evolved from earthenware to porcelain, extending the product range to include sanitary ceramics. This provided a platform for future success and also introduced the sanitary world to a new name: Duravit. Today, Duravit AG operates at an international level and boasts 10 production plants with a workforce of more than 5,000 employees worldwide – an indication of Duravit's tremendous evolution, which has always been rooted in a "tradition of innovation." And Duravit continues to demonstrate its eagerness to charter new territory with its innovative technology, extraordinary design and the development of new product segments. "

"At TOTO, just being the latest and greatest to the market has never been our focus. Our best ideas start with listening to people and discovering what they really need and want in their lives. We call it "people-first innovation" and it's at the heart of everything we do.Let's face it. The days of pretty for pretty's sake are over. And going basic just to save a few bucks in the short run does not give you any real value. You want bath fixtures that save money and water without sacrificing an ounce of performance. And the peace of mind that comes from knowing you bought a product that sets the standards for world-class performance, enduring quality and reliability. And, of course, you want fixtures that can do it all with effortless beauty. There's only one bath manufacturer that can deliver all of that — TOTO."

"For more than 100 years, we've lead the industry in the design and manufacture of toilets and seats, pioneering water-efficient designs and integrating innovative technologies. KOHLER toilets have been essential in shaping the style and functionality of the modern bathroom over the last century. Today the advanced features and proven durability of these products are redefining personal comfort and cleanliness."
"We believe so strongly in the quality of our toilets, we offer the Toilet Satisfaction guarantee through KOHLER Registered Showrooms and Leading Edge Plumbers. To learn more, contact your showroom representative."